The new Cerbo GX, along with the optional GX Touch 50 display, were announced and demonstrated at METS, November 2019. GX products are Victron Energy state-of-the-art monitoring solution. The family consists of the different GX products, and their accessories.
The GX-device lies at the heart of the system – providing monitoring, and operating as the communication-centre of your installation. All the other system-components – such as inverter/chargers, solar chargers, and batteries – are connected to it. Monitoring can be carried out locally and remotely – via our free-to-use Victron Remote Management portal (VRM). The GX-device also provides Remote firmware updates and allows inverter/charger settings to be changed remotely.
Personally I'm a great fan of GX devices, the Color Control GX, Venus GX and more – all being a part of the Victron GX product range.
Detailed introductory blogpost by Panbo
However, my 6 years personal experience is with the Color Control GX model – so I'd be doing you the reader a disservice by reviewing the Cerbo GX. Also, as I blog for Victron, I admit to a natural and faithful bias. It seems only right and proper then to let an independent reviewer give you their take on this exciting new product. What I can say though – is that going by the review on Panbo, the product will be in great demand.
For a detailed introduction, I recommend reading the Panbo blog post by Ben Ellison:
Victron Cerbo GX, good AC/DC power monitoring gets better.
Introductory video
GX Touch 50 display
The GX Touch 50 is the optional display for the Cerbo GX. Its water proof, thin, and easy to mount. There is a cable coming out on the back with two plugs on it: the HDMI goes into the HDMI port on the Cerbo, and the USB (used to power the display) goes into one of the USB sockets. For all details, including dimensions and the manual, see the GX Touch 50 product page.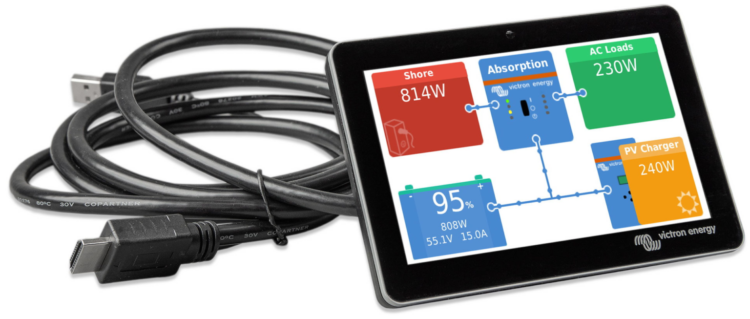 Optional DIN rail adapter
The optional DIN rail adapters are to easily mount the Cerbo GX on a DIN-Rail. Dimensions and details are available on its page on our website.
Conclusion
When you consider just how far GX devices have come in the last 6 years (just take a look back to 2014), then the Cerbo GX is to my mind the ultimate GX turbo charged device for connectivity.
Learn more at the Cerbo GX product page.