We've just added two Bluetooth enabled Inverters to our range. The new-build Victron Energy Phoenix Inverter Smart models are rated at 1600VA and 2000VA and we have models for 12V, 24V and 48V systems.
Dynamic cut-off/intelligent restart
We've added  48V models to the range
Bluetooth communication – allows easy set-up and monitoring on your phone, laptop or smart device
Slimline design allows for discreet wall-mounting
Eco mode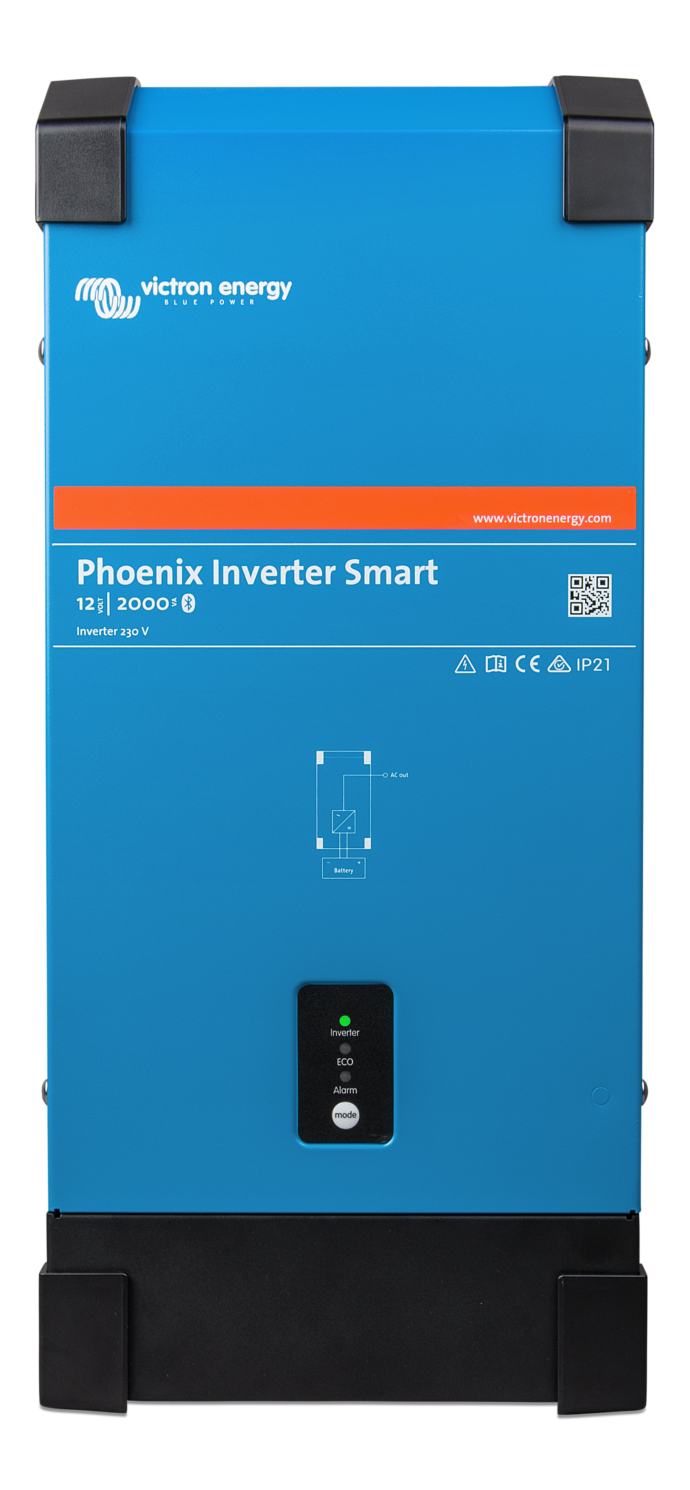 Bluetooth …and VE.Direct
Bluetooth has been built in to the Victron Energy Phoenix Inverter Smart – allowing your power consumption to be monitored, or the settings changed, straight from your phone, tablet or laptop via our VictronConnectapp – which is free to use. Victron Energy Phoenix Inverter Smart also has a VE.Direct communication port allowing wired connection to a tablet or laptop via an optional VE.Direct to USB cable. The unit can then be set-up and programmed using VE Configure software.
Dynamic Cut-off
Your battery is protected by a user-defined low voltage alarm.
The alarm will be followed by an automatic cut-off – the value of which is Dynamic: For example, if the inverter is providing a lot of power at the time a low-voltage condition is detected, the unit will perform its disconnect at a lower battery-voltage than if it were providing only a modest amount of power. When only a modest amount of power is being drawn, cut-off will take place immediately a low-voltage condition exists. See the Manual for full details.
Intelligent re-start
A cut-off will be followed by three intelligent restart attempts. If the cut-off was triggered by a sudden but temporary drop in voltage, the load will be reconnected. A thirty-second delay ensures that the increase in voltage which has been detected is enduring.
ECO mode
In ECO mode some Victron Energy Phoenix Inverter Smart units consume just 0.6 watts – so they can be left in 'standby' for extended periods without worrying about the battery running down between jobs. ECO mode is intelligent, too: When the power being provided by the device falls below a certain value – it will automatically enter standby mode. As soon as it detects a load above a preset 'snooze' limit, the unit will remain on, to power this new demand.
LED diagnostics
Similarly to its predecessors, the Phoenix Inverter Smart is equipped with 'traffic-light' LED's – the behaviour of which relate to the Inverter's current 'status' – providing you with information concerning which mode the unit is in, whether any alarm conditions exist, or if an automatic trip has taken place. In depth information can be found in the manual. Bluetooth connection to your smart device provides deeper analysis.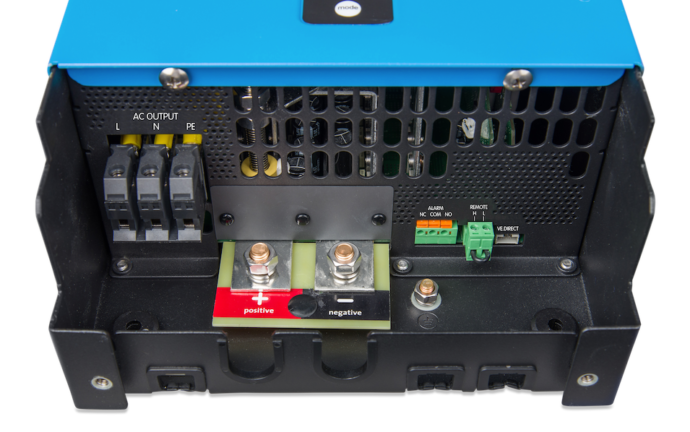 The Victron Energy Phoenix Inverter Smart – which weighs around 12kg – can be tidily installed in an out-of-the-way location, thanks to its slim profile, and sturdy mounting plate. But if it's tucked away – what about reaching it …to turn it on and off? No problem – a remote on/off switch is available.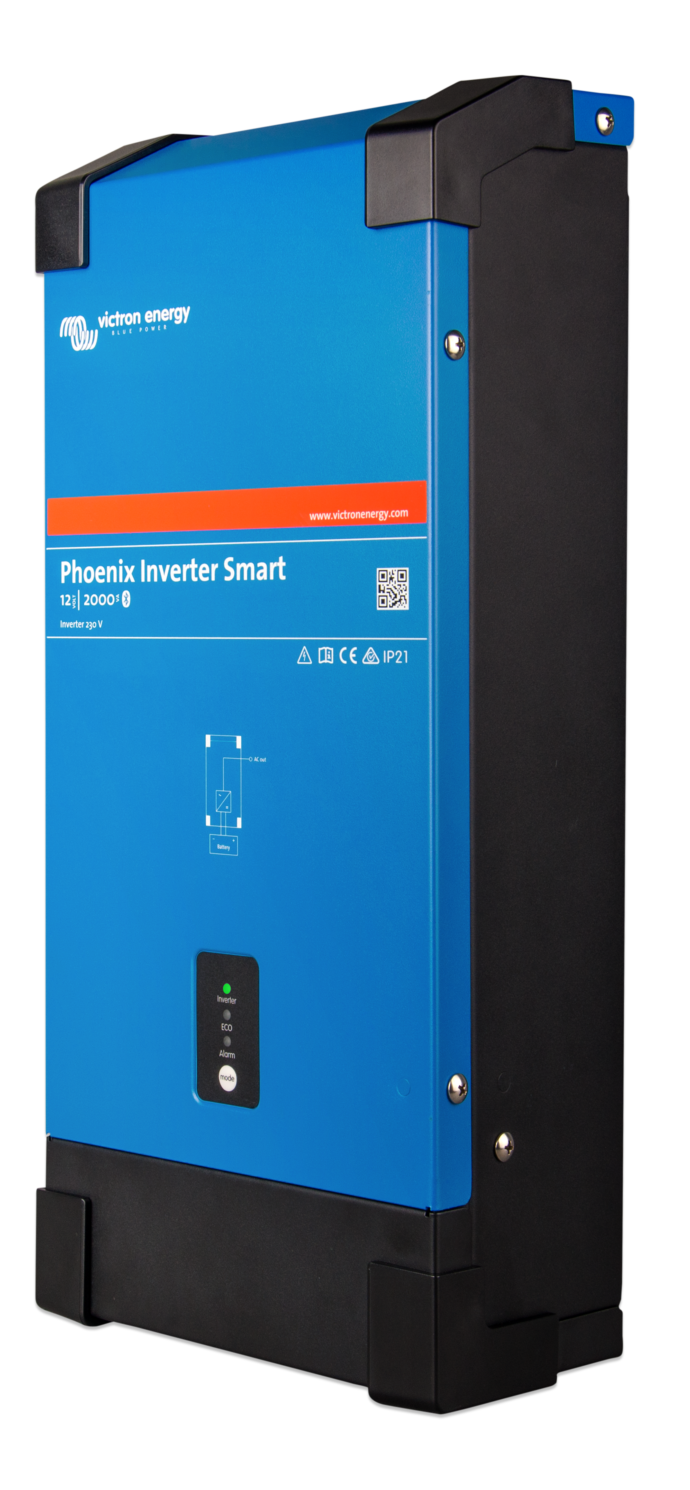 Summary
True Sine Wave power output can be used for sensitive electronics such as computers; and it's Peak Power capability – of around twice its 'continuous' rating – will supply the inrush current typically drawn by workshop tools such as drills, jig-saws, sanders and LED lamps. It can continuously power all the comforts of home – such as Microwave cookers, vacuum cleaners – even pressure washers.
Phoenix Inverter Smart continues to use ultra-reliable 'full bridge' configuration and toroidal transformer topology – all housed in a stainless steel case – to provide years of worry-free service.
Phoenix Inverter Smart is a protected against short-circuit, and overheating.
Inverters for every requirement
We have  Inverters, and Inverter/Chargers for every possible requirement – from compact 175W models to 144kW – configurable for 3-Phase; Multi source AC; and even for Assisting Grid-Power. In Ghana call +2332442700092  or visit our facebook page  to find the right Inverter for you.